Open Air Ceremony
Chair Rental Policies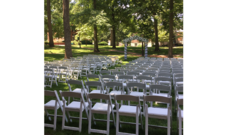 We are happy to be able to provide chairs for your ceremony!
Below are our current policies for same day delivery & pick up of open air ceremony chairs.
(chairs that are not under a covered location or tent)

*Bedrock Party Rentals will deliver chairs in stacks (covered in plastic) to your location. Chairs are stacked on chair pallets and secured with ratchet straps- padded chairs are stacked in sets of 25 and vinyl chairs are stacked in sets of 50 (do not stack any higher for safety reasons). Chairs should be restacked on the provided chair pallets. Customers are responsible for the chairs from the time they are dropped off to the time when they are scheduled for pick up.

*Customers are responsible for setting up the chairs and also restacking them after the event (as well as recovering them with the plastic covers). This helps us keep our costs lower for you but still be able to offer chair rentals.

*All chairs are dropped off at ground level. Requests to unstack them to move them up and down stairs/hills will incur extra fees.

*Chairs are dropped at a set time between 9am-12 pm the same day. Chairs will be picked up approximately 2 hours after the start time of the ceremony. We will try to accommodate your timelines the best we can, but we do not keep staff scheduled all day- they are only scheduled for the specific drop off and pick up time. A per hour $40 fee will be billed if staff has to wait for the items to be ready for pickup.

* There is a 9:00 am (day of event) cut off notification timeline for chair delivery. We do not keep staff on call for weekend deliveries (requiring this would add an additional $40 per hour fee for a minimum of 5 hours). We must be notified by 9am the day of the ceremony if the chair delivery is still taking place OR if you are moving your event indoors due to inclement weather. There are no refunds due to weather cancellations as we have been holding these chairs for your event and have missed the chance to rent them to someone else. Bedrock Party may choose to refund a portion of only the delivery fees, at their discretion, if the chairs are not delivered.

*Weather/rain is always a factor when considering open air ceremonies. We always hope for the best weather, but it's important to consider a rain plan. Additional fees will be added if the chairs are left in the rain and/or restacked wet (fees start at 1.00 per chair). We recommend keeping the chairs covered as long as possible until you get ready to use them. Keep any chairs covered that you do not use.

*Current policy for all our event rentals requires a 50% deposit to hold the items for your event. The order balance must be paid in full and all numbers finalized 14 days prior to the event. Chair quantities may be reduced no more than 25% of the original rental quantity. Cancellation timelines apply (as per rental contract), the only additional term that applies is the 9am, day of event delivery cut off.

Please reach out with any questions. We are here to help.