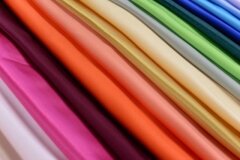 SATIN + MATTE SATIN COLLECTION




$0.00

Please call or e-mail to reserve this item.

Scroll down to view linen sizes and color swatches. This collections has many color options and offers tablecloths, sashes, napkins, and runners. You can find regular satin and matte satin. All linen orders require a 10-12 day advance ordering time.
CLICK HERE TO VIEW THE SATIN COLLECTION
| | |
| --- | --- |
| 20"x20" Napkin | $2.65 |
| 72"x72" Square | $17.60 |
| 90" Round | $21.00 |
| 90"x90" Square | $26.00 |
| 108" Round | $28.00 |
| 120" Round | $31.00 |
| 132" Round | $39.00 |
| 90"x132" Banquet | $42.00 |
| 90"x156" Banquet | $42.00 |
| Sash (8"x110") | $2.50 |
| Runner (15"x120") | $12.50 |