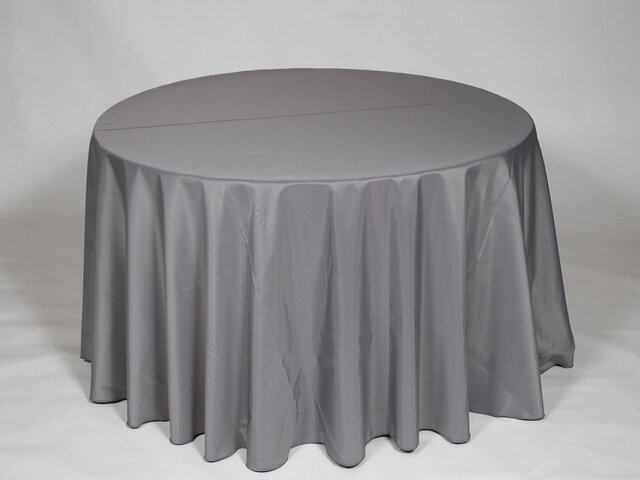 SOLID POLYESTER COLLECTION




$0.00

Please call or e-mail to reserve this item.

This is a classic standard linen suitable for all events. Scroll down to view linen sizes and click the link to browse color swatches. This collection has 59 color options and offers tablecloths, sashes, napkins, and skirting. All linen orders require a 14 day advance ordering time (images shows 120" round linen in charcoal on a 60" round table). Please call or e-mail and we will gladly add these to your quote or order. Also, view our helpful links to find the linen size needed for your table. 90" round linens and 120" round linens are popular sizes for 60" round tables that we carry.
CLICK HERE TO VIEW THE SOLID COLLECTION
| | |
| --- | --- |
| 20"x20" Napkin | $0.95 |
| 54"x54" Square | $7.80 |
| 72"x72" Square | $8.90 |
| 60"x120" Banquet | $12.50 |
| 90"x90" Square | $17.00 |
| 96" Round (black edging) | $16.50 |
| 90" Round | $12.50 |
| 108" Round | $16.50 |
| 108" x108" Square (white/black/ivory) | $25.00 |
| 120" Round | $18.00 |
| 120"x120" Square (white/black/ivory) | $30.00 |
| 132" Round | $24.00 |
| 132"x132" Square (white/black/ivory) | $33.50 |
| 60" Serpentine Throw (skirt recommended) | $21.75 |
| 60" Serpentine Fitted | $32.00 |
| 90"x132" Banquet | $25.50 |
| 90"x156" Banquet | $25.50 |
| 108"x156" King Cloth (white/black/ivory) | $30.00 |
| 8-1/2' Skirt (white/black/ivory) | $18.00 |
| 13' Skirt (mutiple color options) | $24.00 |
| 13' Stage Skirt (white/black/ivory) | $24.00 |
*Prices subject to change*